Pascoe Law Firm
Rear End Collision
Principal office located in Friendswood, Texas.
Available to service League City, Webster, Pearland, Galveston, and the surrounding areas within Texas.
Rear End Accident Lawyer
According to the National Highway Traffic Safety Association, a rear end crash occurs every 8 seconds in the United States. The report continued saying that a rear-end vehicle accident accounts for 29 percent of all automobile accidents. Although many types of injuries can occur from a rear-end crash, including over 2,000 fatal injuries every year, whiplash is one of the most common. It is estimated that over 3 million people suffer a whiplash injury to their neck or back in car accidents in the U.S. each year, many of these being rear-end crashes. Additionally, rear-end collisions are the third largest cause for auto accidents.
A rear end wreck occurs when one driver crashes into the vehicle in front of them hitting the other drivers "rear-end." Getting hit from behind by a car can cause serious injuries. In some cases, a rear end collision can result a fatal car accident occurring.  A majority of rear-end accidents happen because the driver is following to close or tailgating the vehicle in front of them on the road or highway.​
Statistics on Rear-End Car Crashes
Rear-end collisions often cause severe injuries and can be connected to whiplash.  This injury occurs when the head and neck are abruptly extended and then snapped back in a jerking motion. Rear-end accidents can also be deadly for the car driver and car passengers. Injury victims of a rear-end car accident caused by another driver may suffer large medical expenses, lost wages, pain and suffering. In 2007, the NHTSA released a report of the common causes of a rear-end crashes and near-crashes. The report stated that about 87 percent of rear-end accidents involve some form distracted driving on the part of the at-fault driver. For example, use of a cell phone while driving was one of the top distracted-driving activities involved in these accidents
Car Insurance Companies Try To Shift Blame Elsewhere After Rear-End Wreck
After a rear end accident occurs, insurance companies might try to shift the blame and try to make it look like it is your fault. For this reason it is important to that you do know give a statement to any insurance company representative before speaking with a personal injury lawyer about the liability of your case. Insurance companies work very hard to use your words against you. They may try to argue that the circumstances were one where you deliberately stopped or decelerates for no reason solely to cause the accident. Essentially, that you purposely caused the person driving behind you to not be able to stop in time. . By hiring a rear end collision accident attorney the insurance company will have to deal with your lawyer and not you. This helps prevent saying something that the insurance company may try to twist and use against you. It is best to not speak to an insurance company representative until you fully understand your legal rights and options.
Texas Law On Tailgating
​Tailgating, or following too close, is a common cause for rear-end collisions. It is common for the driver that hits the vehicle in front of them, fails to stop, or causes the rear end collision to be found at fault for the accident. It is important for drivers to remember to provide enough distance between their vehicle and the vehicle in front of them to have the appropriate time to fully stop their car or truck. Tailgating crashes could result in property damage and injuries to the other driver and their passengers. Texas state law states: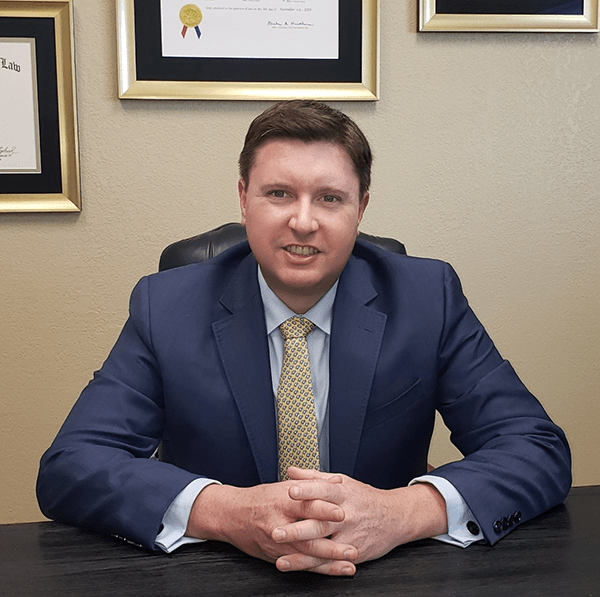 Sec. 545.062.  Following Distance
(a) An operator shall, if following another vehicle, maintain an assured clear distance between the two vehicles so that, considering the speed of the vehicles, traffic, and the conditions of the highway, the operator can safely stop without colliding with the preceding vehicle or veering into another vehicle, object, or person on or near the highway.
(b)  An operator of a truck or of a motor vehicle drawing another vehicle who is on a roadway outside a business or residential district and who is following another truck or motor vehicle drawing another vehicle shall, if conditions permit, leave sufficient space between the vehicles so that a vehicle passing the operator can safely enter and occupy the space.  This subsection does not prohibit a truck or a motor vehicle drawing another vehicle from passing another vehicle.
(c)  An operator on a roadway outside a business or residential district driving in a caravan of other vehicles or a motorcade shall allow sufficient space between the operator and the vehicle preceding the operator so that another vehicle can safely enter and occupy the space.  This subsection does not apply to a funeral procession.
Rear-End Accidents and Whiplash Injuries
| | |
| --- | --- |
| | ​Rear-end car accidents are the common cause of whiplash, an injury to the back and neck. Whiplash occurs when a car is hit from behind by another vehicle. Then the crash occurs the impacted car is suddenly pushed forward. As a result, the car or truck is pushed forward and then the driver and passenger get suddenly jerked forward. As the car occupants get jerked forward what happens is their neck and head then pulled forward by their body that is strapped into their seat. Whiplash is the injury that occurs when the head and neck are pulled from being over extended. It ultimately is an injury to the neck ligaments that have been suddenly and abruptly over extended and then snapped back into place. |
Common Signs of Whiplash
​​The common signs of whiplash include:
Upper Back pain or stiffness
Low Back Pain
Headaches
Shoulder Pain
Back Pain
Whiplash victims can suffer severe pain from their injuries for several months before they recover. Others may experience the pain for years and unfortunately some might never have the paid go away. After a rear end collision it is important to see your doctor or chiropractor to be examined and have the full scope of your injuries identified. Common causes of rear-end auto collisions often involve following to close the vehicle in front. However, other causes can also contribute to the auto accident occurring.  Typically, most involve: tailgating, distracted driver, driving recklessly, talking on cell phone, texting while driving, car passengers distractions, impaired driving involving alcohol or drugs, and speeding. If you have been injured in a rear-end crash in Houston or Galveston you should speak with an injury lawyer about your legal options available.
​Common Causes of Rear-End Accidents
​Rear-end collisions are nearly always someone else's fault. It may be that the person who hit you was actually rear-ended by someone else, and the force of that impact caused that person to collide with you. ​Rear-end crashes often may involve more than one car. But somewhere in the chain of events, there was a cause and chances are that the cause was some form of negligence. A skilled personal injury attorney can help you determine the cause of your crash and work to obtain compensation for you from the person responsible for your injuries and damages.
Some common driving behaviors that result in rear-end crashes include:
Following Too Close — Drivers are supposed to maintain enough distance between their car and the car in front of them to be able to stop suddenly without colliding. When drivers tailgate you, and you're forced to stop suddenly because of debris in the road or another reason, the result often is a rear-end collision.
Distracted Driving — Drivers talking or texting on mobile phones, or eating, or applying make-up aren't giving their full attention to the road. They may not see you stop and end up hitting you from behind.
Speeding  — The amount of distance needed to stop a vehicle is directly related to the vehicle's speed. Drivers who are speeding often can't stop in time when presented with obstacles in front of them — including your stopped car.
Faulty Brakes or Other Mechanical Defects — Drivers are supposed to maintain their vehicles in roadworthy condition. That means making sure their brakes and other parts of their car are in good working order. When brakes fail, collisions often result.
Protect Your Legal Rights Following a Rear End Auto Accident
​It is always horrible to hear that someone has been in a rear-end car crash. The driver who gets hit from behind can be seriously injured and could face a length recover time from their personal injuries. Unfortunately, rear end car wrecks are fairly common in Galveston, League City, and Houston. Many drivers might never see the car coming towards them before they get hit. Whiplash victims typically face severe injuries and a long road to recover. Many some may never able to fully recover from their injury and may even pass away from the catastrophic injuries that can occur in more tragic accidents. If you or a loved one has been in rear end collision accident please contact a personal injury lawyer who can help guide during through this difficult period in your life.
Attorney for Rear-End Car Accidents
Our rear end accident attorney fights for the rights of those who suffer injury after being hit by a car. Motorists have a duty to drive with caution. The Pascoe Law Firm in League City, Texas has represents rear end collision accident victims in the Galveston county and League City areas. We are very familiar with the serious injuries that can occur in car accidents. Our rear end collision lawyer is committed to holding negligent drivers fully responsible for their actions. Call us at 
713-829-4317
 for a free consultation and prompt investigation. If you are or a loved one has been injured and suffered personal injury, call the Pascoe Law firm to speak with accident lawyer. The Pascoe Law Firm provides a free personal injury consultation for rear end car accident victims. Call or contact us online to speak with a Car Accident Lawyer if you or a family member was rear ended by another vehicle. Hablamos Español.
Areas We Service for Rear End Collisions
Rear End Accident – Research and Reports
Attorney, John D. Pascoe and the Pascoe Law Firm, is responsible for the content on this website, principal office and only office located in Friendswood, Texas. Servicing: Alvin, Angleton, Atascocita, Bay City, Bacliff, Baytown, Beaumont, Bellaire, Brazoria County, Brookside Village, Clute, Conroe, Clear Lake, Clear Lake Shores, Chambers County, Channelview, Cypress, Danbury Dickinson, Deer Park, East Houston, El Largo, Freeport, Friendswood, Fresno, Fort Bend County, Galveston, Galveston County, Greenspoint, Gulfgate, Harris County, Hitchcock, Houston, Houston Heights, Huffman, Humble, Huntsville, Jefferson County, Katy, Kemah, Lake Jackson, La Marque, La Porte, League City, Liberty County, Manvel, Memorial City Houston, Midtown Houston, Missouri City, Montgomery County, Montrose Houston, Nassau Bay, North Houston, Pasadena, Port Bolivar, Port Arthur, Pearland, Richmond, Rice Village, River Oaks, Rosenberg, Rosharon, Santa Fe, San Leon, Seabrook, Shoreacres, Sienna Plantation, South Houston, Sugar Land, Southbelt Ellington, Spring, Texas City, Taylor Lake Village, The Woodlands, Tiki Island, Tomball, Victoria, Uptown Houston Galleria, Webster, West Columbia, West University Place and throughout Texas.
Webpage is intended solely for residents of Texas or Persons seeking representation within Texas. An Attorney-Client relationship only occurs when both parties agree that the Attorney will represent the Client and will not be created until that agreement occurs. Website and all of its pages is intended to be used for educational purposes and does not constituted as legal advice. All information on every page of the website does NOT suggest or claim that the attorney has a specialization in any area of legal practice or certification. Attorney not certified by the Texas Board of Legal Specializations. 
"John is very professional and great at what he does! He asks questions to be informed of your case so he can give you the best options and advice. He genuinely wants to help you and wants to make a good outcome for you. Would definitely recommend him to people needing his services!"